Where we work
CRDI headquarters' office is based in Woodbridge, Virginia but most of the field level activities are planned and carried out in the Democratic Republic of the Congo (DRCongo), and in partnership with the local churches and the development partners (Ministry of Health, USAID through a few international NGOs, and local communities).
The Congo Health Center project is the first field level activity that has been initiated with donations of medical equipment and supplies from CrossLink International (a faith-based US-based PVO).


The Congo Health Center Project
The purpose the Congo Health Center (CHC) project is to increase access to facility and community-based high impact primary health care activities that can reduce morbidity and mortality among infants, children, and mothers who live in the catchment areas of the health center. The first CRDI-assisted Health Center is located in Binza-Ozone Health Zone of Kinshasa in the Democratic Republic of the Congo (DRC).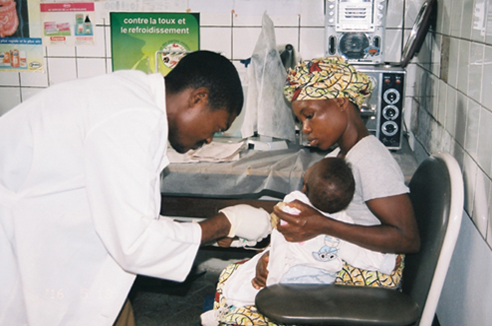 Screening of Malaria infection in children


The direct and indirect beneficiaries of the requested Grant are the estimated 30,000 people (men, mothers, children, and the elderly population) who live in the catchments areas of the Health Center. This includes the estimated 6,600 women of reproductive age and the estimated 6,300 children less than five years of age.


The major project interventions include:
malaria control and prevention
diarrheal diseases control,
immunization against childhood communicable diseases and the related Maternal and Child Health services;
provision of prenatal and post-natal care including family planning;
assisted delivery;
school health/hygiene education;
training and promotion of nutrition including exclusive breastfeeding and appropriate weaning practices;
screening and treatment of confirmed cases of pneumonia and tuberculosis,
screening and treatment of sexually transmitted infections (STIs); and
prevention and case management of opportunistic infections in people living with HIV/AIDS.